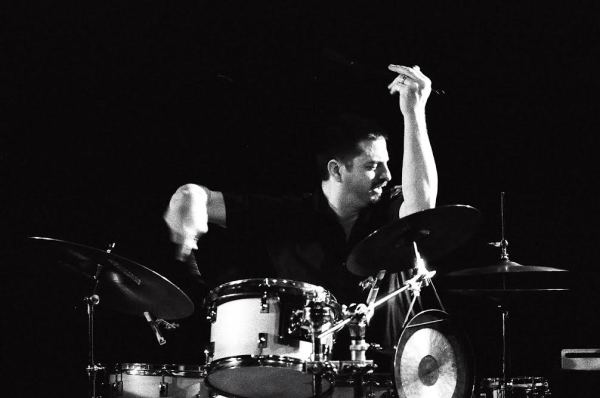 (photo by Tom Greenland)
Primary Scene: Brooklyn/New York (2000-12), Asheville, NC (2012-present)
Inspired by the DIY ethic of punk in the early 80s – Jeff began playing drum set in garage bands at the age of 13 in suburban Atlanta. He studied percussion at The Peabody Institute and composition with Stuart Saunders Smith at The University of Maryland. In the mid 90s he began performing experimental music, pulling from interests in contemporary classical, jazz and rock – setting into motion a lifelong journey investigating composition, sound and listening.
This new direction brought Arnal to Bennington College to study with visionary percussionist, Milford Graves. During this time he collaborated with Charles Gayle. The culmination of this work led to a series of duo concerts at Tonic in NYC.
Based in NYC between 2000-12, Arnal performed and collaborated with a wide range of musicians and choreographers throughout the U.S. and Europe with appearances at: Ausland (Berlin), Berlin Exploratorium, deSingel (Antwerp), JazzoSphére Festival of Music & Literature (Paris), Issue Project Room (NYC), German Nordwestradio – NDR (Bremen), Hallwalls (Buffalo NY), MATA (NYC), Music Gallery (Toronto), Roulette (NYC), and Vision Festival (NYC).
Over the past 20 years Arnal has shared the stage with countless musicians, many appear in his discography and others including Anders Nilsson, Ken Filiano, Ben Hall, Okkyung Lee, Matt Heyner (No-Neck Blues Band), Briggan Krauss, Matt Schulz (Holy Fuck), Peter Kowald, Keiji Haino, Mary Halvorson, William Parker, Roy Campbell Jr., Kermit Driscoll, Jessica Pavone, Tomas Ulrich, Ras Moshe, Donald Miller (Bortbetomagus), Stephanie Richards, Liudas Mockunas and Doug Walker.
His collaborations with choreographers have been produced at PS 122, Joyce SoHo, Danspace Project at St. Mark's Church, The Chocolate Factory and Judson Church.
He has received grants and fellowships from ASCAP, Brooklyn Arts Council, Meet the Composer and Art Omi International. His music can be heard on a number of independent record labels including Clean Feed in Portugal and Leo Records in England. He has also contributed music to the feature films: Otto; or Up with Dead People by Bruce LaBruce and The Cult of JT LaRoy by Marjorie Strum.
From 2012-15 Arnal was the Senior Music Specialist for The Pew Center for Arts & Heritage. In addition to managing grant-making activity at Pew he spearheaded a number of initiatives that provided artists and organizations with capacity-building support. Previously, Arnal worked as a consultant with the performance venue National Sawdust in Brooklyn, NY and was an active curator of music, dance and multimedia events in the NYC arts community. He was Co-Artistic Director of Improvised and Otherwise, organized performances and sound installations at The Chocolate Factory and served as curator of On The Way Out, a monthly performance series he founded in 2003.
Arnal holds a BA in Interdisciplinary Studies: Music Composition and Filmmaking from The University of Maryland and MFA in Music from Bennington College. Currently he lives in Asheville, NC with his wife, Estelle and their two boys. He works as a consultant for The Pew Center for Arts & Heritage and is the Artistic Director of Free Range Asheville, a platform for performance, research and discourse. In 2016, Arnal was appointed as Executive Director of the Black Mountain College Museum. He organizes events and performances honoring and preserving the Black Mountain legacy.
www.generaterecords.net/JeffArnal
Arnal, Jeff