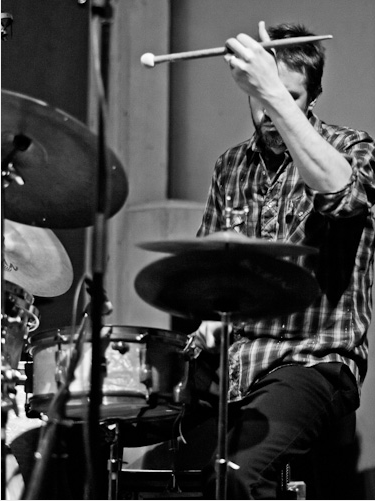 Primary Scene: New York/Brooklyn
Andrew Barker is a drummer and composer living in Brooklyn, NY.  Barker is co-founder of the free jazz and improvised music ensemble Gold Sparkle Band from Atlanta, Georgia from 1994 to present.  After moving to Brooklyn, NY in 1998, Andrew became the drummer in William Parker's Little Huey Creative Music Orchestra (appearing on Mayor of Punkville, Raincoat in the River, Spontaneous, and For Percy Heath). Since then he has appeared on many recordings with musicians such as Daniel Carter, Sabir Mateen, Chris Jonas, Rob Brown, Sonny Simmons, Assif Tsahar, Virginia Genta, Ed Ricart, Roy Campbell, and many others.  Barker has performed with many musicians in New York City and beyond including Butch Morris, Thurston Moore, Steve Swell, Herb Robertson, John Zorn, Marshall Allen, Sirone, and Paul Dunmall.
Barker leads the psychedelic free jazz unit Acid Birds (with Jaime Fennelly of Mind Over Mirrors and Charles Waters of GSB), and the heavy improv unit, Barker Trio (with Michael Foster and Tim Dahl).
www.andrewbarker1.bandcamp.com
Barker, Andrew