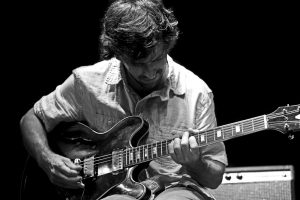 Primary Scene: New York/Brooklyn
Guitarist Jonathan Goldberger spent most of his youth on the outskirts of the Everglades in Florida. From there he migrated west to the Rockies (where he studied with musical guru Art Lande and played and toured with the cult spacey/bluesy Fat Mama) before finding his way to Brooklyn in 2001.
He has worked extensively in both the music and film worlds, including composing and producing the music for the award winning feature films, Trans, and The Hawk is Dying.
He currently plays guitar and has worked with with artists including Red Baraat, Jim Black, John Zorn, and Joe Russo among many others, and has just released the CD Surface to Air, a collective with Rohin Khemani (tabla), and Jonti Siman (upright bass).
Goldberger, Jonathan