Interview with violist Liliana Rodriguez Alvarado
via email, January 8-February 1, 2018
CB: What were your formative musical experiences growing up in Torreon, Coahuila, Mexico, and other places that you have lived?
LRA: In Torreón, I started playing viola at the age of 13 at the Instituto de Arte Integral de la Laguna with my professor was Juan Carlos Castro Guerrero. We used to perform a lot of concerts in public spaces with classical and popular music, the classes were conducted in group, with him leading almost all the classes, a lovely experience for starting my musical life. I will always remember the enviroment. Then, years later I started classes in a different school that was quiet different, one that had more signatures such as ear training, history, harmony, etc, a little bit more real. My professors were Vladimir Leshin, Raul Jaquez and Armando Martínez, the name of that school was Centro de Iniciación Artística Pilar Rioja, in Torreón Coah, and this school made me want to study music as a career because of the experience in that school. Finally at 19 years old I moved to Morelia, Michoacán for get into the Conservatorio de las Rosas, for starting my professional career as musician.
When i moved to Morelia, I first studied viola with Gellya Dubvrova (RIP), then composition with Eduardo Solis Marin and Juan Sebastian Lach Lau.
Here, I discovered at one of my first music history classes with Edgar Calderon, that new music and was Love at first sight. In Torreon, Coah, i just had been listening to Stravinsky as contemporary music (2008).
CB: What kind of formal music training have you pursued? How did that shape your craft?
LRA: First I started very formal viola classes with an amazing and special teacher, Gellya Dubvrova. She helped me to realize how bad I was seeing music and how focused I had to be for studying. I failed in terms of the attention I had for the sound and how hard I needed to work. This was one and a half years because I drop her classes and she didn't want me anymore also, she said: "I know my classes are like a military school and I know it is not for everyone." That was my last viola class. The semester after that, I started my composition classes, at the same school, with Eduardo Solis Marin, because I wanted to be a musician, and I thought of composition as a career path. I immediately felt that it fit.
Over the years it became natural for me to explore the viola, and mix composition with improvisation. The first pieces I wrote were for viola, naturally.
CB: Who/what do you consider to be your major influences?
LRA: Oh my god, a lot, since my classmates (Valeria Jonard, Jorge Alba y Martín Pacheco[1]) are the ones I loved, from the conservatory, who I really know when I was studying my first year in Morelia.
People who I have gotten to know through this journey are Manfred Werder, Juan García, Radu Malfatti, DevinDiSanto, Carmina Escobar, Jacob Wick, Christian Wolf, Scott Cazan, and Gudinni Cortina. My idols are Robert Ashley, James Tenney, Peter Adrianz, Marianne Amacher, Hugo Morales Murguia, Alvin Lucier, Nicolas Collins, Phill Niblock, and John Cage. And my closest people in this journey are Juan Sebastian Lach, Eduardo Solis Marín, Michael Winter, Martín Pacheco and Alan Manríquez Burrolas.
CB: How did you get involved in the Morelia music scene in particular? How does it stand out from the musica libre (free music) of Mexico City and elsewhere?
LRA: For me, the Morelia music scene is centered at Comité de Asuntos Intangibles (Juan Sebastian Lach Lau and Inés da Luz Project). They did his first house concert in September 2015 with Trio de Gira (Alexander Bruck, Ramon del Buey, and Chris Cogburn) and was an amazing concert and experience for everyone. Then after that they continued doing concerts and are still doing them now.
I played there, my first time in August 2015, after one invitation from Carmina Escobar, a contemporary Mexican singer. I met her because I wrote a piece for her, and after getting to know each other, she proposed a concert in Morelia, at Comité de Asuntos Intangibles, with Maria Lipkau, she and me in sound, and Inés Da Luz, Itziar Garaluze on visuals. That was my first time playing música libre in Morelia. Morelia has a very good musical scene because of these spaces: Conservatorio de las Rosas, Festival de música de Morelia, Festival de Jazz, Festival de Música Contemporánea, CMMAS, Comité de Asuntos Intangibles, Sala Silvestre Revueltas, etc.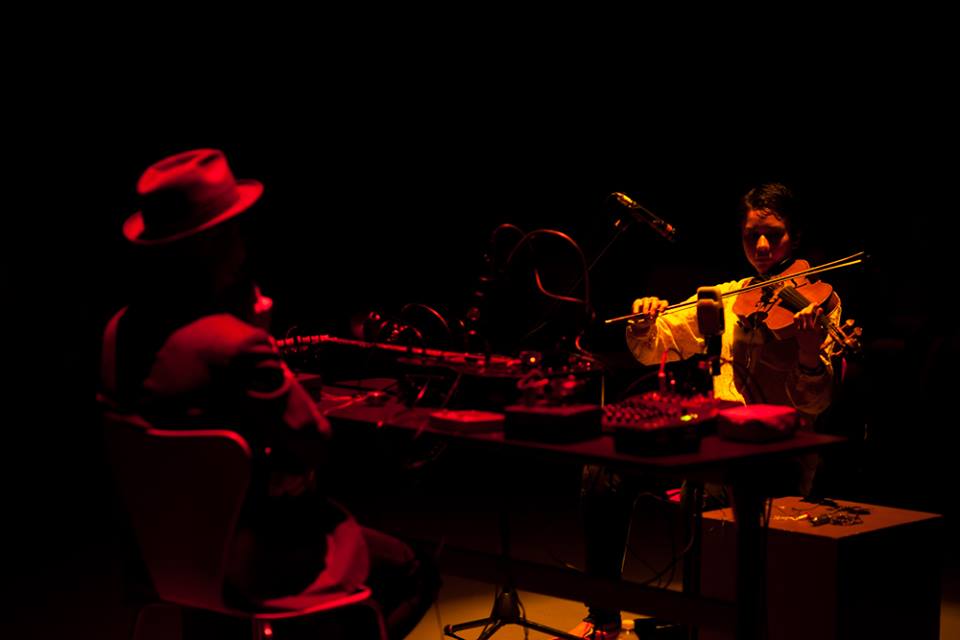 CB: What are the main musical projects you have been working on and who are your collaborators? How have these projects evolved over the years?
LRA: My projects, the ones I can call my own, have happened in Torreón Coahuila or Morelia by my hosting. For example, in December 2016, I played in Del Sonido Del Silencio in a festival in Torreón, Coahuila, Mexico. My collaborators in Del Sonido Del Silencio are Frida Luna (designer), Elias Agüero who always supports my ideas, and Bogar Adame for the facility of the places. Artists in Del Sonido Del Silencio: Radu Malfatti, Eva Coronado, Klaus Filip, Javier Alanis Velarde, Grupo Cadereira, D.J. Sets music flavor. Assistants: Ramon Shade, Claudia Maynez, RosaLinda Alvarado, Enrique Menéndez B., and Enrique Menéndez L.
In August 2015 with noise thru livecoding, free improvisation with SuperCollider, Rafa Romo Tavizon, played for the first time in Torreón with Susana Rodríguez on violin and me on viola and objects.
Also I was involved in the debut of Esteban Betancur's electronic (party) music generated by algorithms and his own programming, January 2018, Sonorama, Centro, Torreón, Mexico.
But my main collaborations and works have been to play improvisation. We just start playing and after that get to know each other. Thanks to this, since I started improvising,  I have met fabulous people and they have invited me to be part of that and that is just what i want, the experience and whatever the results generate.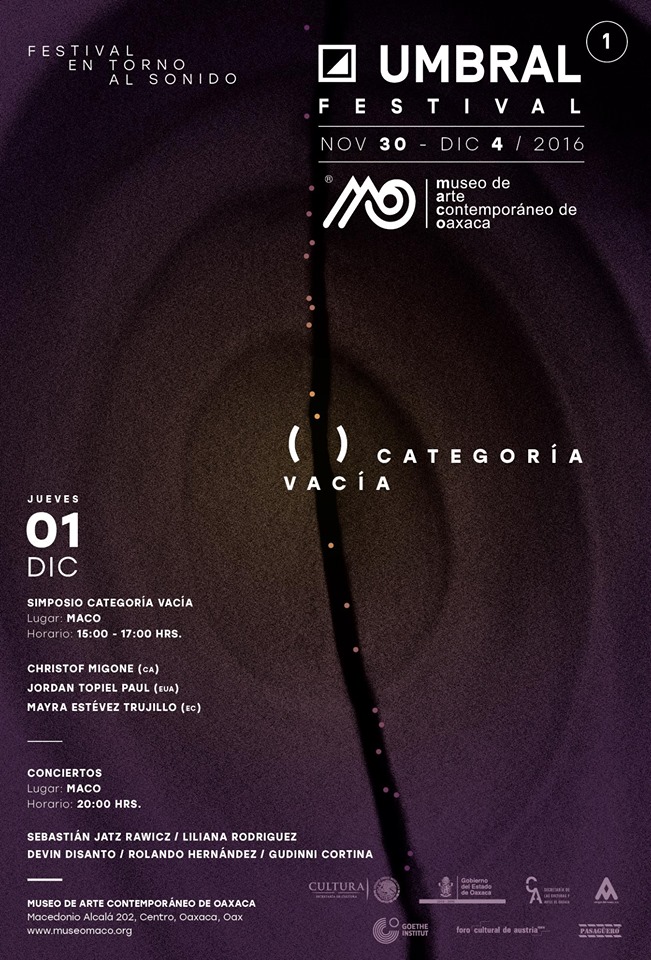 Umbral: Guddini Cortina and Rolando–  I played with Vicente Rojo Cama, Mark So, Ana María Zuñiga, Aaron Escobar, Sebastian Jatz Rawicz, Daisuke Ishida, Erik Laska, Emilio Gordoa, Radu Malfatti, and Rossana Lara.
El Nicho: Danae Silva, Erick Namur – I played there with Aime Therior, Alexander Bruck and C. Spencer Yeh. This is an amazing string quartet improvisation at Museo de Arte Contemporáneo.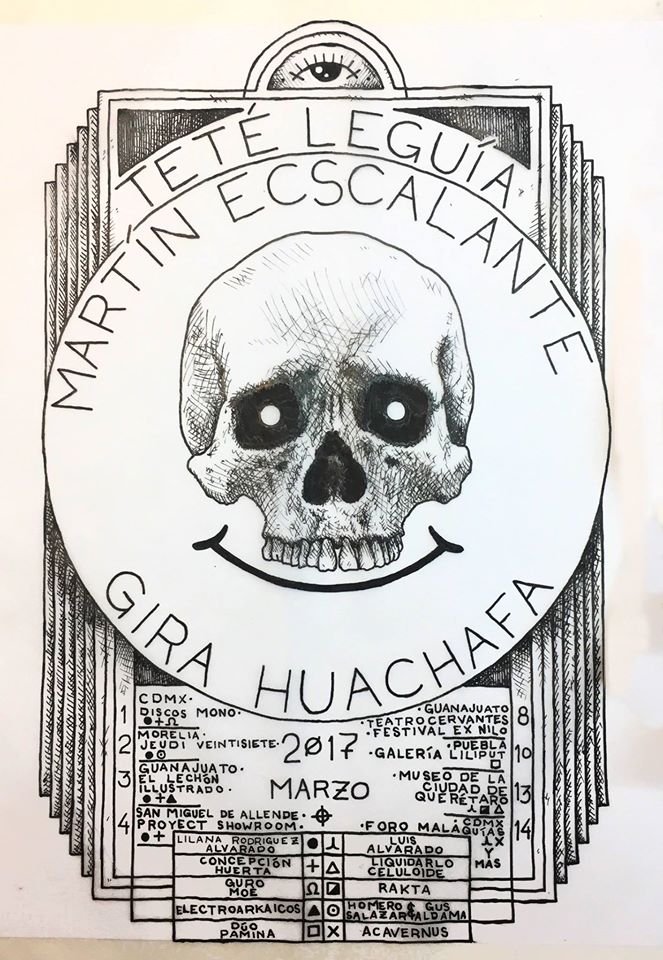 Gira Huachafa: Martín Escalante with Teté Leguia, Concepcion Huerta, Guro Moe, and Oscar Escalante.
Austin Larkin – we played together in Morelia, Michoacán; Guanajuato and San Miguel de Allende, and Gto.
NOCTURNO directed by Irasema Serrano a performative piece with Irene Jiménez, Flor Contreras, Jessica Espinosa, Enrique Zarate, and Aime Therior  
Fernando Vigueras and I played in his plataform desbordamientos, his curatorships and also his installations.
Julian Bonequi: I did a residency at his place Audition Records in Mexico city. Over the years I still do that and we are planning play again with Concepcion Huerta, recording something, etc and with Del Sonido Del Silencio we are thinking in the second festival edition in Torreón for December 2018 and I want to rap with some local rappers in Morelia and Torreón.
CB: What kinds of shows have occurred at Comite de Asuntos Intangibles and how has that come to shape the arts scene in Morelia?
LRA: This place is very important. It has become an important international forum in Morelia for both local people and artists from other places to show their recent work in sound and visuals. I think its a very important place for the arts scene in México and Morelia.
People who have performed or presented their work there include: Diego Espinoza, Corey Fogel, Tonalli Nakamura, Mike Winter, Eduardo Velazquez, Jessica Morales, Utte Wasserman, Andrea Neuman, Sabine Ercklentz,  Sean Cotterill, Thomás Sanchez, Alejandro Franco Briones, Carlos Iturralde, Hugo Morales Murguia , Robin Hayward, Ben Bennet, Judith Hamann, Martin Taxt, Peder Simonsen, Francisco Colasanto, Santiago Astaburuaga, Jorge David García, Kjell Bjørgengen, Irepan Rojas, Alfonso Muñoz, Misha Marks, Dario Bernal, Carlos Alegre, Ensamble Shilti, Mariana Sepulveda, Manfred Werder, Guillermo Portillo, Tatiana Heuman, Jorge Espinal, Wilfrido Terrazas, Klaus Filip, Radu Malfatti, Julian Martínez, Hector Rey, Catriel Nievas, Paco Zuñiga, Rolando Apolo, and Aisel Wicab.
CB: Why did you decide to found La Sociedad de Musica Libre in Morelia? What are its goals? What has the organization accomplished?
LRA: This, La Sociedad de Música Libre, is a Project from my friends, Diushi Keri and Daniela Galvan, both Michoacanos, and they started this project in Madrid, Spain, 2 years ago, now they are living here in Morelia and they have invited me and a friend, Barush Fernández Zamorano, to be a part of this.
I started organizing concerts in Morelia one year ago, because people who I know or who I have played with recommend me in Morelia, and ask me for a concert here. I first was organizing concerts at my house or at Jeudi27 (a great place one corner away), so when Daniela came back to Morelia, she knew about that and asked me to join Sociedad de Música Libre. The goal of the organization is mainly to provide a space for the local scene and people who want to just play freely (open sessions). The space also puts on concerts with guests.
CB: How did you begin collaborating with Felix Blume? What about his work did you find most enticing?
LRA: I actually just did a concert whit him and Concepcion Huerta, April 2016, because Fernando Vigueras organized the series "Resonancias in Situ" at the Museo El Chopo in Mexico City and he invited me to play with them. That was the first time, then Fer Vigueras also invited me to record an intervention at Felix Blume´s installation, which was a part of the FONEMA exposition curated by Enrique Arriaga and Esteban King in Ex Teresa Museum also in Mexico City.
http://www.felixblume.com/ruidos/
What he does with the sound recorder is just amazing, he is a master. He is the sound from Francis Alys, his abilities for having the quality and the result he wants is just mastering his skills through all of his hard work.
CB: Viola drones, often of open strings, are featured heavy in your work. How did your investigations of these sounds begin and what have you found most intriguing about these projects?
LRA: The investigation about harmonics in a mini space with open strings started with the improvisation and exploring my instrument, studying viola and trying to fixing my body position and technique with open bow and the connection.
This was complemented by the theory about my composition classes because my professor, Juan Sebastian Lach, is very interested in micro-tonal work . He composed a lot of micro-tonal music. I also investigated this on a deeper level with a piece commissioned by Liminar, a contemporary music ensemble who made a Julian Carrillo homage at Los Angeles (CalArts) in 2015 and asked me for a piece. I started to read about him and it made a deep exploration on strings, their high harmonics, and their multi-phonics through his writing.
https://soundcloud.com/lilly-rodriguez/cancion-para-voz-y-arpa-carrillo
I found very interesting the way you can express and create,  with a mini-space from the string or with one string, no left hand, the sound, the multi-phonics, colors, textures, using minimal resources, I really like it and enjoy it and find a good place to work with which gives me a lot of resources.
CB: How have you developed your vocabulary for overtones that also feature prominently in your work?
LRA: Ok, from my viola and improvisation overtones are just "the tool." They are mainly the way I do music when I play improvisation. Sometimes I do noise, sub-harmonics, etc., but i really like to explore and mix the natural overtones.
As a composer I have used them on strings; where I wrote for the cello and double bass a multi-phonics using the approximation between overtones. For this I use an existing notation from this page.
I'm not gonna lie, these last two years I have been lazy in composition, that´s maybe the main reason because i don't explore deeply , as i should, overtones in other instruments.
In my most recent works I use the empathy between two sounds and the resonance with other strings and the micro-tonal differences between two very similar sounds and their texture.
CB: Thank you for speaking in such detail about your work!
_______________________________________________
[1] Martín Pacheco is from Hermosillo Sonora, Mexico. He was a friend of my sister, and he was my first composition professor; he showed me Debussy, Mauricio Kagel, second Viennese school, dodecaphony technique, his own pieces. He made me do analysis from this composers pieces. I didn't compose anything.