In March, 2020 along with businesses in many sectors around the world, music venues in New York City—all of them—shut down due to the COVID-19 pandemic. This triggered immediate mass unemployment and a scramble of musicians into the online realm where they are now exploring new possibilities for making and distributing their work from home. During this time Olga Morkova, an activist and producer who directs the organization CenterPoint Arts, had an idea: why couldn't musicians use cars as a means to perform in actual physical spaces for actual audiences while adhering to the mandate of social distancing?
Morkova's idea led to a CenterPoint Arts initiative called "Concerts From Cars," which launched in Brooklyn on April 4thwhen a travelling caravan of six cars stopped at four pre-selected destinations in four Brooklyn neighborhoods to give short, pop-up concerts from the street for whomever happened to be on the block.
With the sound of saxophones, brass, and drums filling the air families began to appear in upper floor apartment windows, at front doors, on stoops, and in front gardens. Passersby on the sidewalks stopped and listened. Everyone stayed at least six feet apart and the musicians played for about ten minutes before receiving a surge of applause, gratitude, and expressions of bemused and bewildered amazement. Then they drove off to their next destination.
In "Concerts From Cars" each musician plays from his or her own car—playing out the window, sitting on the hood or the roof, playing from an open hatchback, or standing next to their car. Performers where masks and sometimes gloves. Only members from a single household are permitted to occupy a vehicle.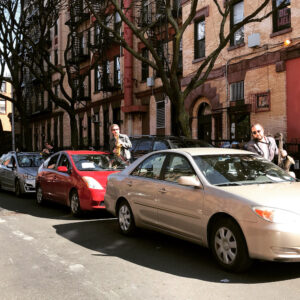 To prevent crowds of listeners from congregating, the group does not announce shows in advance, and the shows last only ten or fifteen minutes. Unlike the vast majority of live music situations Concerts From Cars maintains a zero tolerance policy for crowd formation and leaves if listeners congregate in anything that begins to feel like a crowd or if they don't respect distancing guidelines. Drummer and Music Director Dan Kurfirst calls it "music for the social distancing era."
In this difficult time for everyone, Concerts From Cars brings music to the streets as a cure for  cabin fever and as an uplifting force for everyone who struggle during the pandemic. CenterPoint Arts understands that throughout history, and all over the world, music has not only been used to celebrate happy occasions, but also to provide emotional support in times of crisis. Music has a special power to uplift peoples' spirits, facilitate group bonding, relax or excite listeners, and create focus. For this reason it has been employed for millennia in social gatherings, religious and ceremonial events, funerals, and everywhere from movies and advertising to elevators and malls.
The Concerts From Cars initiative was conceived and is led by Olga Morkova, an activist and producer for the performing arts, founder and director of CenterPoint Arts. Dan Kurfirst, drummer and composer, serves as Musical Director. The band features Nick Lyons, Dave Sewelson, and Ben Cohen on saxophones; Ryan Messina on trumpet; Chanell Crichlow on tuba; and Andrew Drury and Dan Kurfirst on drums and percussion, in addition to occasional special guests. Musicians play original compositions by Dan Kurfirst and Andrew Drury and frequently improvise based on John Coltrane's Love Supreme and blues and funk grooves.
As Concerts From Cars continues to play concerts unannounced, due to a popular demand that has emerged spontaneously the group has begun to offer an opportunity for people to book mini-concerts on their block. It is an opportunity for New Yorkers to give live music as a gift to their community. For more details, visit centerpointarts.com.
Concerts from Cars includes:
Olga Morkova (Coordinator/Organizer)
Dan Kurfirst (Drums/Percussion)
Andrew Drury (Drums Percussion)
Ben Cohen (Tenor Saxophone)
Nick Lyons (Alto Saxophone)
Channel Crichlow (Tuba)
Dave Sewelson (Baritone Saxophone)
Ryan Messina (Trumpet)