Poet No Land has surged onto the scene over the past couple of years, performing in duos, trios, or solo, mesmerizing audiences with her precise diction and incisive commentary. Joanna Mattrey has been performing in New York the better part of a decade in a number of contexts, including solo sets, and has worked in duo with No Land in recent months in a particularly electrifying ensemble that, at times, has included other great improvisers such as multi-instrumentalist Daniel Carter. No Land is a force to be reckoned with and Mattrey meets her aesthetic head on with an entire universe of her own tones. Recognition for both of these incredible performers is long overdue.
This review examines two separate performances, the first a duo of No Land and Mattrey (later joined by Carter) at La MaMa Galleria in January, and the second, a solo performance by Mattrey followed by No Land with Carter and bassist Luke Stewart at Spectrum in early April.
LaMaMa Galleria, January 17
No Land and Mattrey opened an evening of the Bilennials reading series. Mattrey began with improvised noise, using amplified cardboard rubbed on the floor and occasional ethereal rubbing of viola strings to usher in the first piece which No Land announced was "Spiritual Auto-bio-geo-graphy." The most personal of all of her writings, this piece is a call for revolution of a certain kind, a complete remaking of all that we know. At one moment, she says, rather matter-of-factly, "Jesus said it was impossible for a rich man to be good." Later in the set, Carter joined for "The Translucent Earth," which opened with a quote from Sun Ra, "they hold their truths to be self-evident." Though No Land is soft-spoken when engaged in conversation, and even in performance does not grow to a high volume, she speaks with terrifying certainty, like she has seen visions and she is relaying them to us as revelatory truths. She makes no use of unnecessary metaphor, but rather strips away all the deceptions large and small, dispelling many untruths that our society clings to feebly, and reveals underlying light that has been there all along. On these journeys she talks of other realities, apocalypse, tragedy, death, re-imagining.
Spectrum, April 8
The April show was even bolder. Poet Anne Waldman, who was in attendance, described the night. "The show of April 8th at Spectrum over by the Navy Yards, curated by poet-performer, photographer, artist, No Land, was sheer delight. New raging talent . . . filling the eclectic and almost a mini-barn space, generous crowd, we traveled in the antithesis rhizome. Soaring sax by Devin Brahja Waldman with Roshni Samlal on steady tabla, an intrinsic duo where East meets wild mind West. Then, the debut of Notable Deaths, with radical poet Cait O'Kane's powerful salient spoken word intelligent screed on the state of the land and Devin Brahja Waldman at controls pushing on beats."
Then Mattrey played a solo set of viola where every sound, even the smallest ones, hung in the air like spider webs throughout the refurbished space. She seemed like she was in a trance and delivered music that was in that vein–at times bearing grooves, multi-phonics, and complex, unsettled layers of sounds. The use of styrofoam added a noise element that she masterfully manipulated through bowing and plucking, often at high speeds. Mattrey also unveiled her stroh violin, a thin instrument with a bell attached, such that the sound is channeled through the metal bell rather than resonating in the wood chamber to produce what sounds like a combination of a string instrument and muted trumpet. Mattrey worked the edges of the potential pitches, again with a meditative, rolling rhythm and attention to the full range of volume. Anne Waldman added, "phenomenal altered viola of genius Joanna Mattrey with the added textures of stroh violin."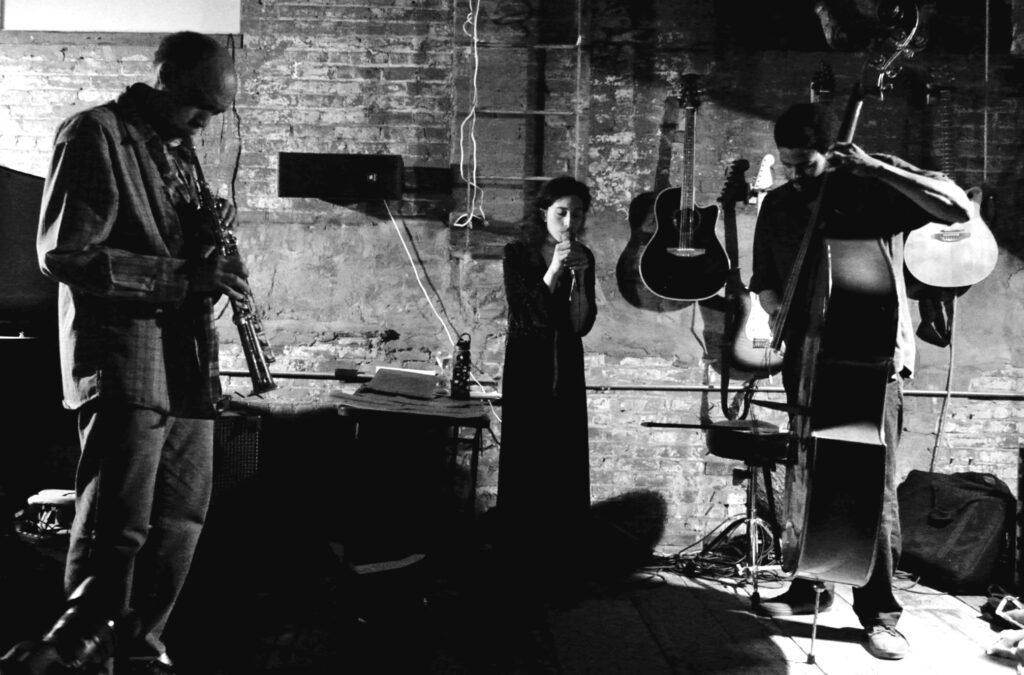 No Land then took the stage with Luke Stewart on bass and Daniel Carter playing many different instruments in succession. This was No Land's most powerful performance to date, opening again with "Spiritual Auto-bio-geo-graphy" accompanied by low drones on bass and muted trumpet that occasionally flared up like fire around the words No Land. Poet Anne Waldman, stated "No Land herself, ethereal with her powerful hybrid texts, joined on horns & piano by legendary Daniel Carter & Luke Stewart on elegant subtle roaming bass. Everybody should be magnetized by these luminous sounding poetries for the dark times."