More than likely it'll be January of 2021 by the time you read this. And while all of us have struggled to find ways to cope with the virus, loss of work, countless deaths, being stuck at home, breathing through masks, continued racial and gender-based violence, and the general feeling of impending doom, it must be acknowledged that there's been a shitload of really good music released this year. I wanted to take a moment and reflect on a few of the releases that have moved me throughout 2020. Consider this a recognition of my most constant listening companions since March.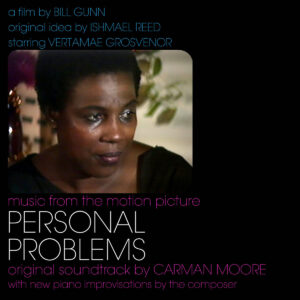 Personal Problems OST by Carman Moore (Reading Group)

Sometime in April my dear friend Greg Davis posted this record in his stories section of Instagram. It was a new arrival at his shop Autumn Records. Upon seeing the cover I was immediately pulled in by the striking image of the great Vertamae Smart-Grosvenor. After doing a quick internet search I saw that the release was indeed limited and I quickly contacted Greg to purchase his sole copy.

Not being familiar with Bill Gunn's 1980 film (starring the cover model) or Carman Moore's compositions, I was excited to jump into unfamiliar territory. The record is comprised of the soundtrack on Side A (from the year of the film's release) and Side B is a series of beautiful piano solos (from 2019); all never-before-issued. The soundtrack is a beautiful image of what part of the post-1970s New York social scene would look like for Black folk. While fragments of the avant-garde Jazz world are present ("Funeral Sax"), an extended view of the merging African-influenced percussion and dance floor circles make themselves heard ("New York Trouble Groove" and "A Personal Story"). "Love Trouble", "Harlem Moment", and "Beyond Annoyance" are incredibly touching pieces, while all of the improvisations making up Side B flow together creating an emotional dedication to the soundtrack itself. With notes from the composer and famed author Ishmael Reed, Personal Problems is truly a great example of how unreleased and reissued material should be handled.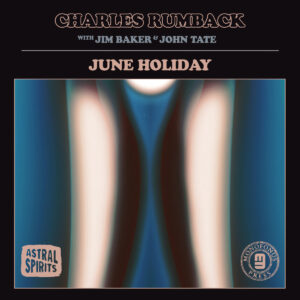 June Holiday by Charles Rumback, with Jim Baker and John Tate (Astral Spirits)

Having been a fan of the Astral Spirits label for the last few years, I must say that I am always surprised by what Nate and the crew are going to release. So when I got an update about a trio LP, I was very interested (to my knowledge it might be the most "Jazz" album they've released to date), but little did I know that it would be such a constant companion throughout this year.

June Holiday just hits right. In the years that I've been reviewing albums, I can count on one and a half hands how many times that an album was an instant classic for me. No overproduction or overthinking; just three men in a room playing what they know. I'd never heard the names Charles Rumback (drums), Jim Baker (piano), or John Tate (bass) before this record, but I can say they have helped me through some of the hardest parts of 2020. With the opener "Foglights" the trio set the moody tone. In the front is the composer's piano, which throws me back to the first time I heard Paul Bley. As the tune proceeds his style becomes busier with drums and bass keeping up nicely. Rumback's "Burning Daylight" is a mysterious piece that leads the listener to a pathway of question marks giving room to a road of hope. The fluid nature of the structure paints a picture of the necessity of eye contact between musicians in a small space. There is a sense of closeness cemented into the composition that I cannot overstate.

"Hard Goodbye" is simply the most moving piece of music in this vein I've heard in years. If there is a book of standards, it should be included. With our composer's opening bassline, a feeling of grief is still conveyed to me through those first few notes almost a year after first hearing it. Rumback's gentle brushing gives way to Baker's mournful Bill Evans-like keystrokes. Angry and confused, I remember sitting in my room alone trying to make sense of what was happening all around me while wrestling with my goodbyes of the moment. Rumback, Baker, and Tate gave me a well-rounded project full of emotional highs and lows that has gotten a lot of plays throughout this year and have pulled my head out of some dark places.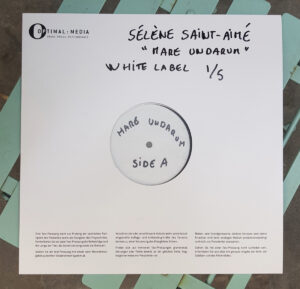 Mare Undarum by Sélène Saint-Aimé (Komos Jazz)

I've been trying to write about Mare Undarum for several months. An idea would appear while listening to it, but then quickly get overshadowed by another when something else in the music popped up that I hadn't recognized previously. Sun Ra, Madlib, Suzanne Ciani, Pablo Casals, Liz Harris, and John Lewis are just a few of the artists that come to mind concerning these types of listening experiences. So it still floors me that Sélène Saint-Aimé has been able to create this inner response with her debut album.

Clocking in at just over 41 minutes, it is a difficult album to describe. Equal parts Comme à la radio (Bridgette Fontaine and the Art Ensemble of Chicago's 1969 masterpiece), Jamaican Folk Songs (1954 record by singer, poet, and folklorist Louise Bennett) and any number of Euro-classical string quartet records that I'm not qualified to describe, Mare Undarum might best fit into the avant-guardian soul section that produced the "out of left field" debuts of Minnie Riperton and Roberta Flack. It is the album I've spent the most time with during 2020.

The record opens with part one of the title track. The lone voice gives way to bass, percussion, horns, and strings. The slow, intense Caribbean rhythm is a perfect backdrop for her singing. Then something unexpected happens. While she is wrapping up what seems like the first verse (around the 3-minute mark) our leader starts hitting heavenly theremin-like notes, making way for the pace to pick up. The fluttering of horns and strings now take center-place creating an Andrew Hill-esque riff that would have fit perfectly on Point of Departure (1965, Blue Note). By the six-minute mark of this piece (still the album's opener), it is obvious to the educated listener that they are not just taking in any ol' new release.

On "Feuillé et Beer," Sélène's Euro-classical training becomes a bit more apparent, while "Paene Umbra: Chez Rosa B." showcases her skills as a bass soloist. "The Rings of Neptune", composed by her teacher Steve Coleman, highlights the work of Sonny Troupé (percussion), Hermon Mehari (trumpet), and Irving Acao (tenor saxophone), while the supporting strings of Guillaume Latil (cello) and Mathias Lévy (violin) help propel the centerpiece of the album "Partialis." Throughout the 8 pieces that make up this record is singing and recitation (which I will not pretend to understand since I don't speak a lick of French), but it makes for a pleasant embrace to the ears.

While we have all experienced some form of loss this year, I feel it's important to remember a handful of the good things that have happened. If I had to choose ten things to be thankful for, these three records would surely be on that list. Whether it be an archival soundtrack from New York in the 1980s, a heavy trio recording from Chicago, or an ethereal voice from Paris, we have all been touched by something, someplace. And since the pandemic is far from over, here is hoping that 2021 will brings us closer together through sounds and even stronger spirits.