There honestly aren't too many unique ways to say that the end of the year has dawned on us. For Feminist Jazz Review, this "End of the Year" list is cause for new beginnings. It's also the perfect opportunity to look back and sum up the synthesis that I truly believe that women composers are some of the most important human beings living on Earth. I strived to engage, listen and give a platform to women artists who work, compose and perform in a male dominated music industry, whether it be DIY, independent or major.
I have the honor of choosing five outstanding albums from women jazz composers and performers who have released albums this year, but I want every female identified jazz musician to know that I see you, you're valued, you're equal and things are going to get better.
This list is not to create a hierarchy, but it's a bird's eye view of what women can do and what is to come. Without further ado, here are my picks for the Five Best Albums of 2018 for Feminist Jazz Review: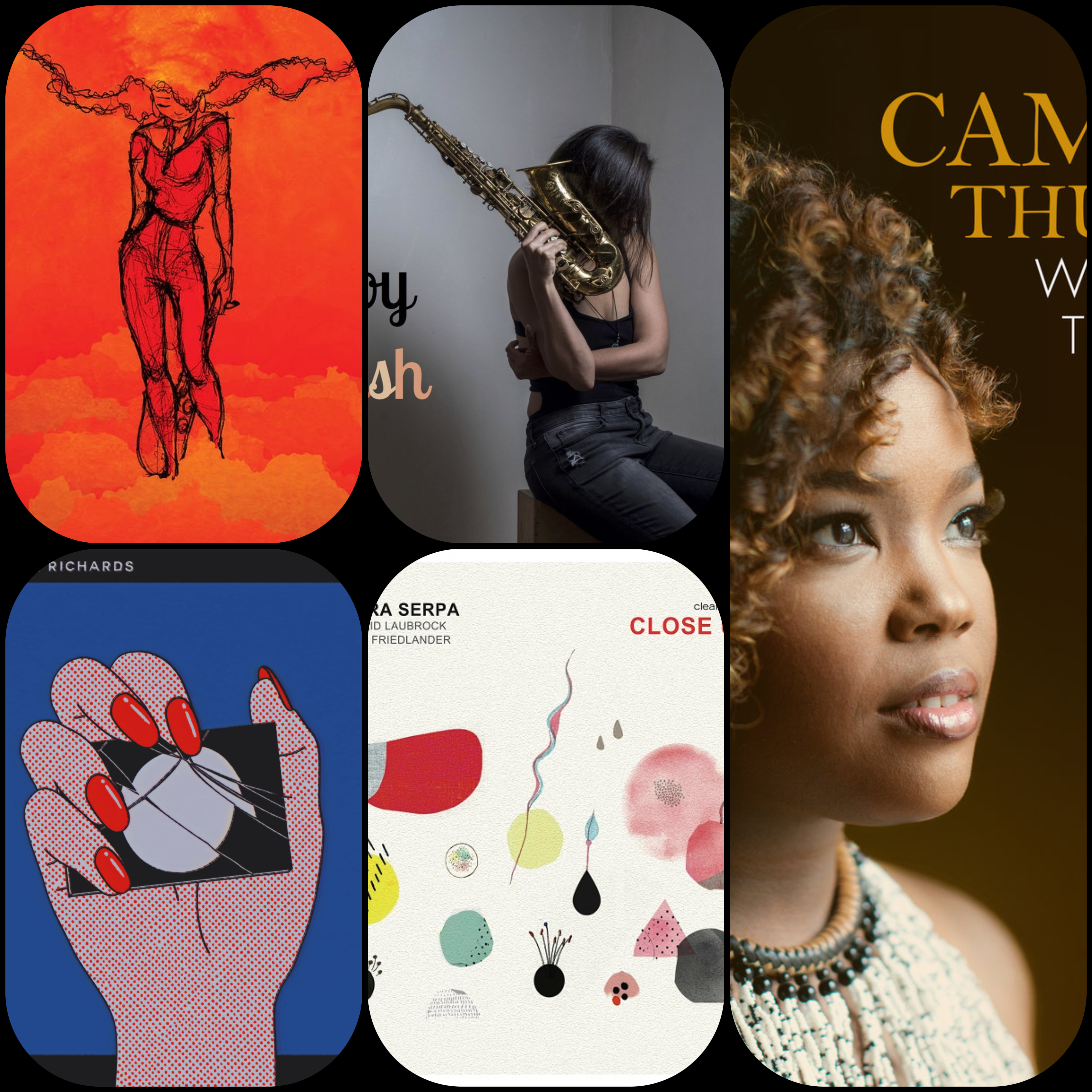 Five Best Albums of 2018 – Feminist Jazz Review
Written By: Jordannah Elizabeth
__________________________
Nubya Garcia – When We Are (Nyasha Records)
Caribbean, London-based saxophonist, Nubya Garcia released the smooth and scintillating album, When We Are earlier this year. The crisp coolness of the album and crystal clear production makes it a standout collection of jazz compositions. Accompanied by Joe Armon-Jones on piano and Wurlitzer, Daniel Casimir on double bass and Femi Koleoso on drums, When We Are is an unostentatiously complex album that can raise the hair on the back of your neck without overwhelming your senses. It's a stunning record.
Sarah Hughes – Coy Fish (Self Released)
Coy Fish by DC native and alto saxophonist, Sarah Marie Hughes emerged after she had already been making a name for herself in the DC area by playing events like the Washington Women in Jazz Festival during the Austrian Cultural Forum Washington at the Embassy of Austria with bassist Judith Ferstl (Vienna), CapitalBop's artist-in-residence at the Spotlight Residency and a plethora of other prestigious performances. Hughes' debut album, Coy Fish was definitely long awaited. To my ears, the album did not disappoint. Offering an off-kilter, droney, improvised work of art, the album's personnel, Samuel Burt on daxophone, Daniel Ostrow on bass and voice and Nate Scheible on drums and voice participated on the album with fervor. The band has a fascinating chemistry with Hughes' unique style of improvisation. You can read my interview with Sarah Hughes about Coy Fish, published earlier this year for Feminist Jazz Review here.
Camille Thurman – Waiting for the Sun Rise (Chesky Records)
Camille Thurman can easily be considered 2018's contemporary jazz vocalist shining star, garnering acclaim from top jazz critics and publications for this year's release, Waiting for the Sun Rise. Her sunny disposition and vintage vocal stylings attracted a wide audience of jazz lovers. Whether it was because she gifts listeners with an air of nostalgia, pleasantly reverting you back to the golden days of jazz singers like Ella Fitzgerald and Sarah Vaughn or the slight modern moodiness of the echoey reverb that glazes the album's tracks, Thurman certainly received well deserved recognition for her lovely music. Thurman has also been playing saxophone since she was 15 years old, making her a double talent in the jazz world.
Stephanie Richards – FULLMOON (Relative Pitch Records)
Trumpeter and composer, Stephanie Richards outdid herself with the 2018 album, FULLMOON. In this sparse, improvised, percussive brand of creative music, Richards performs on trumpet, flugelhorn and percussion along with Dino J.A. Deane on samples. This album is different, challenging, exhilarating and fun to listen to. Richards and Deane positioned her instruments up in a circle, and the album found its title as she and Dino walked out of the studio after a long evening of recording, only to gaze up at a full moon they were unable to ignore. Read my interview with Stephanie Richards about on FULLMOON from earlier this year for Feminist Jazz Review here.
Sara Serpa – Close Up (Clean Feed Records)
After 10 years and several albums, the celebrated Portugal born vocalist and composer, Sara Serpa offered a touching solo album entitled, Close Up. With the opening track "Woman," Serpa elegantly asserts her understanding of herself and the concept of womanhood. But the true inspiration for the album was the film, Close Up by director, Abbas Kiarostami, where she and musical heavyweights, Ingrid Laubrock on tenor and soprano saxophone and Erik Friedlander on cello, brought a new a interpretation of Kiarostami's work via Serpa's compositions. Along with Serpa's involvement in We Have Voice, a collective of female identified jazz musicians who created a manifesto to fight sexism in the international jazz community, Serpa is not only continuing to make beautiful music, but she's doing the work to create a safer, more inclusive jazz community for future female identified jazz musicians.