Finding my way to Co-Prosperity Sphere, the headquarters of the local record label on the Southside of Chicago was fated by a number of fortunate incidents that began with my coverage of the 2018 Pitchfork Music Festival. I was able to witness incredible performances by Lauryn Hill, Chaka Khan, Blood Orange, Raphael Saadiq and others, but it wasn't until I arrived at a Monday night performance of International Anthem artists, Irreversible Entanglements, a young and mighty crew of free jazz forces of nature was when I realized the story of their label that took them on was worth taking a deeper look into its inner workings. I spoke with Moor Mother of Irreversible Entanglements for an article I was writing on the band and she spoke of her simple experience of getting signed to the label, "I was doing a show in Minneapolis and I was on tour with Screaming Females… and they said, 'Hey, there's a guy backstage. He's a friend of ours. He has a jazz label. I was like, 'What? Well, I have a free-jazz project!'" So, I took out my laptop and played it for him right there. He said the music sounded good and to send him an email. And it went from there."
Another interaction with the super talented, Jaimie Branch, another artist of International Anthem, made me realize, it would be best to go to the source.
Co-founder, Scottie McNiece quickly replied to my interest in speaking with him and invited me to his office where McNiece and his business partner, David Allen operated in a tucked away corner of the upstairs space of the Co-Prosperity Sphere, where his cluttered desk and impressive catalog of his artists' music sat contently crammed on wooden shelves. McNiece knew where every album was like the back of his hand.
The office overlooks the music venue as the upstairs is not tapered off by confining walls. It made the presence of the label seem like it was an extension of the midsized warehouse space.
McNiece made some tea and engaged in an interesting chat with me:
Let's talk about your international show in London and the upcoming event, International Anthem in Paris. Were your global shows a foundation of your goals for the label?
It's kind of funny because we started doing showcases out of the country, and people were like, "Oh yeah, International Anthem," like we're manifesting this but I don't think that was the idea. I don't know, maybe I was tapping into something, or it was like a time travel moment when we came up with the name. But the root of the name was, I was jamming on a piece of music, and we recorded it. I loved it and I told [my friend], "I'm going to call this International Anthem." I don't know why, but International Anthem, the title just came from a stream of consciousness of a piece of music I worked on. I always liked it, and I always knew I wanted to save [the name] for something really important. So, when my partner David and I decided that we were going to do this record label, I said, "I want to call it International Anthem."
I liked what it stood for as a stand-alone phrase. It stands for diversity, but always unified under music – diversity and unity, and transcending borders, which is what we wanted to do with music. We didn't want to box anything up. But here we are doing these showcases outside of the United States, and so, we're quite literally doing that.
I was recently talking to trumpeter and International Anthem artist, Jaimie Branch who played on your London showcase and will be playing the upcoming Paris show. I asked her if she felt like the showcases were curating a family among its artists. She replied, yes, but it felt more like a community. Is that your goal with the international shows?
I use the word, "family" a lot. We talk about community. In general, what I tell people is what I consider my job to be, I consider the work that I am doing is building community. So, we try not to be crony-ist about the musicians we work with. We're trying to build a community starting with a foundation and growing from the foundation. Yeah, I think the number one goal is trying to build community.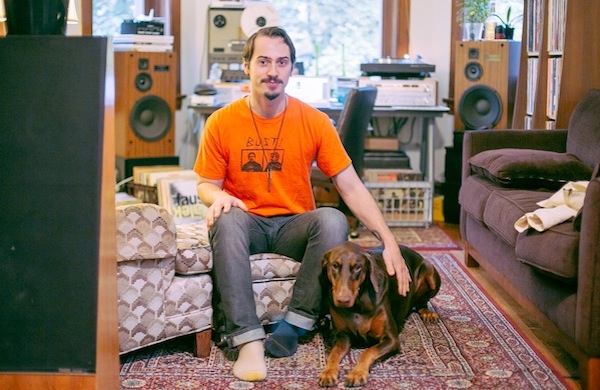 That's exactly how the Paris opportunity came up. There was a promoter in Paris who was friends with the promoter who we worked with in London when we did the London showcase, and loved what we did there. They wanted to do it [in Paris]. It wasn't just out of the blue. It was a natural progression.
Where would you go next?
I don't know. Again, with Paris, someone reached out to us. And even with the London showcase, the reason that happened wasn't because we just wanted to go do a showcase in Europe. Different [International Anthem] artists were like, "Oh, yeah, I'm going to be playing Europe in October." It started with Jamie [Branch] who got asked to do a show in in Austria at the end of October, then Tomeka [Reid's] Hear in NOW was working on book their European tour which would start in mid October, then Makaya was like, "I got invited to do "The Bridge" in France in October.
All these things started ringing in my head. I thought, "All these artists are going to be in Europe in October. If we can just get there, we can put on a showcase." I started looking for different options in Europe and at the same time, I started working with Tina Edwards, who is a journalist and promoter in London. I was helping her with something in New York, and I really liked working with her, so I thought maybe we should do [a show in London].
So, when you ask what's next, for me, it's like, where are a bunch of our artists going to already be next? Same thing with the Paris show. Yes, it's happening, but it wouldn't be able to happen if not for everyone who are already going to be over there. Everybody was planning on being on tour in Europe anyway in the fall. So, it was just a matter of finding a date that everyone could do. So, these aren't random decisions. It's like, another opportunity will present itself naturally and we'll respond.
Outside of general operations of music and labels, did you notice any signs reciprocity? Your story of how the label started and your ethos seems to be intertwined with your artists.
I guess from day one, I've always had a seed of an idea. For some reason, 8 or 9 years ago when I made this piece of music with a friend of mine and called it International Anthem, I knew it was an important idea, but I didn't know why. I knew it then. I had it written down, and I was saving it for something important. Maybe you're implying that we know what we're doing more than people realize.
I feel totally okay with broaching [our story] as if we don't have all of the answers. We're very new to this, and I don't want to present us as though we're experts in anything because there's always too much of that in this kind of music. There's too many people who think they're the authority, and they're the gatekeepers and we don't want to be that way at all. We have very high standards for the quality of the music that we work with, and high standards for the way that we present it, but we're not objectivist about anything.
I'm glad to hear that you're always open to learning and don't poise yourself as an expert, at any rate, this place looks (Co-Prosperity Sphere) pretty fun.
This space? [laughs]. I don't want to take too much credit for this space because I moved into it two years go. That's my little office (points to the corner of the room to his left) over there. This gallery has been here for about 10 years. They've been doing events and shows. Philosophically, communally, I was very interested in what they were doing and it felt like it fit a lot of my ethics as well.  I was looking for a space to have an office to do shows out of, and at the time, Edmar, who owns this place and is the spiritual guide of the place, tried to help me find a place, and eventually I moved in here. Edmar is another fun person to me. He had a gallery in Wicker Park and has been publishing a magazine called Lumpin Magazine for 20 years. It's a great combination of humor and political commentary.
Well, I'm just excited to be sitting in a small crux of the membrane of the Chicago music community.
Yeah, that's the thing. If you're interested in Chicago, there are so many different sides of it. I think a lot of people look to different people to speak definitively about what it is here. I think it's so multi-dimensional, and unfortunately . . . sometimes, fortunately, but most unfortunately, it can be tribalist and divided.  That's been a huge goal of what I've been trying to do since we started [International Anthem], is to be very against that, and to bring lots of different people together in a natural way and not be too forceful about it. It's really important to be encouraging. It became super clear as soon as I started getting involved in jazz, free jazz and improvised music in Chicago, I realized there was a Northside thing and a Southside thing. Some people crossed over, others refused to.
Thankfully, lately, there's starting to be more outlets on the Southside for people who want to do creative music, revolving around the Rebuild Foundation who has been opening spaces around that area. Out of the programming I do here,  we started looking for an office in this general area [Southside]. Even though Bridgeport is a traditionally white area in the Southside, I wanted to be in the here period. I knew there was a lack of venue space here. Since the the Velvet Lounge closed, not that I could ever be anything remotely like the Velvet Lounge, that place was special because that was where all the musicians from the Northside and Southside came together. I felt at least this place is geographically closer, and musicians can get here easier.