Written by Sarah Manning
Thank you, Tarana Burke, for starting the Me Too movement. Yes, #MeToo. And the parallels between Hollywood and the music industry are clear. There was the bizarre guy who reached out and ran his thumb down the center of my face and over the bridge of my nose when I talked to him about booking my band. The guy who grabbed my butt while I was playing in Los Angeles. The industry guy who commented words to the effect of "sometimes they do what their owners want to do" when I expressed delight that his dog climbed into my lap. The guy who came up to me a few months ago after I played a tune and asked me to step on his feet for his own titillation, and I tried to play nice and be clear at the same time that no, I wasn't going to do it, and he still came back and tried again, and then I found out he was the house DJ.  These are just some of my personal experiences. They are not unique.
Sexual harassment and assault are inextricably linked to the devaluing of women generally, a devaluing that is part of the everyday sexism that may be difficult to pinpoint but has far-reaching effects. Reading saxophonist Lauren Sevian's article on WBGO.org, "Sexism in Jazz: From the Conservatory to the Club" was the breaking point for me in terms of sharing one particular story about sexism in jazz.
I respect Lauren, and I really appreciate that women are talking about these issues. In fact, when Greg Osby's Inner Circle label's debut was profiled in DownBeat, I wrote a letter to the editor (which they published), noting that the article glaringly omitted Lauren and saxophonist Meilana Gillard, the two women instrumentalists on the seven-artist roster.
I released my last two albums on Posi-Tone Records, and I am grateful that my affiliation with the label got my music in front of a wider audience. This is where things get really challenging. I've held my story in because of concern for my career, and for fear of bringing negative press to the women who have since recorded for Posi-Tone, when their experience may be different. But Posi-Tone is held up in Lauren's article as a champion of women artists, and I cannot agree.  
In September of 2015, I talked to Posi-Tone about participating in their 20th anniversary party at Smalls. I told them that I'd like to play one of my compositions with one of the two bands performing that night. They said they'd think about it and get back to me. They didn't. After the event, I discovered that the 18 other artists who were listed as special guests for the evening were divided into two groups, one for each band, and invited to bring a composition—exactly what I had asked for. Even though I was listed as a special guest on the event poster, I was not added to either group. I was the only female artist on the label at that time.
The result? A 20th anniversary party that had no women on stage, even while my current release for them was kindly included by Chris Barton in his top 10 jazz albums of 2014 in the LA Times. When I called Posi-Tone to share my frustration at what had happened, I was told that frankly, my attitude was a problem, and I should have just shown up anyway, as the guys would have been happy to do.
I dropped the issue and stopped being in contact. My music is becoming more experimental anyway, which isn't the right fit for their catalog, and there were other things that made me uncomfortable. But then, with the release of Roxy Coss's Posi-Tone album, Chasing the Unicorn, something really strange happened. I was checking out the new release on her website and reading her bio, and a sentence in it sounded really familiar to me. Because I wrote it.
Turns out, Posi-Tone took the bio from my 2009 album Dandelion Clock, which included an unusual sentence I had written as well as producer Marc Free's writing and a quote from Nat Hentoff…and repurposed it, more or less verbatim. Sarah Manning became…Roxy Coss. They even managed to paraphrase Nat Hentoff (without attributing the quote, thank goodness).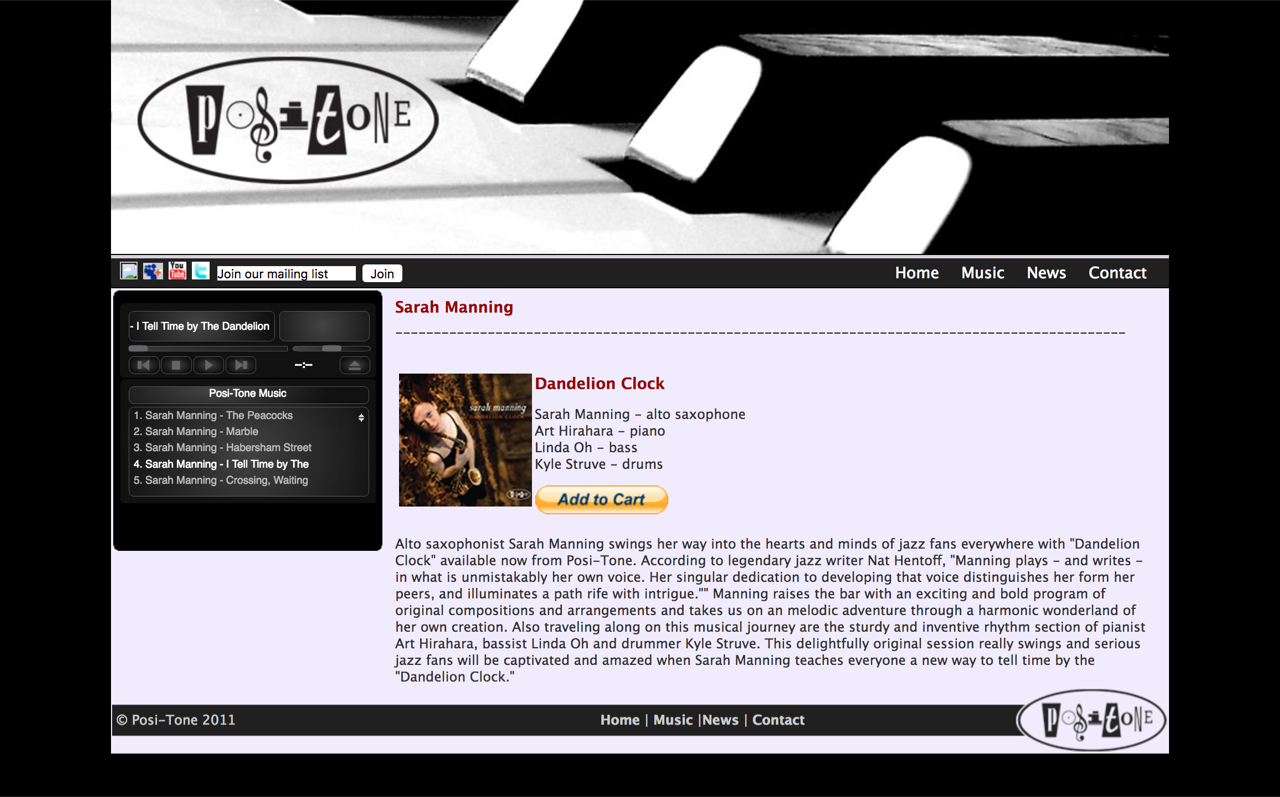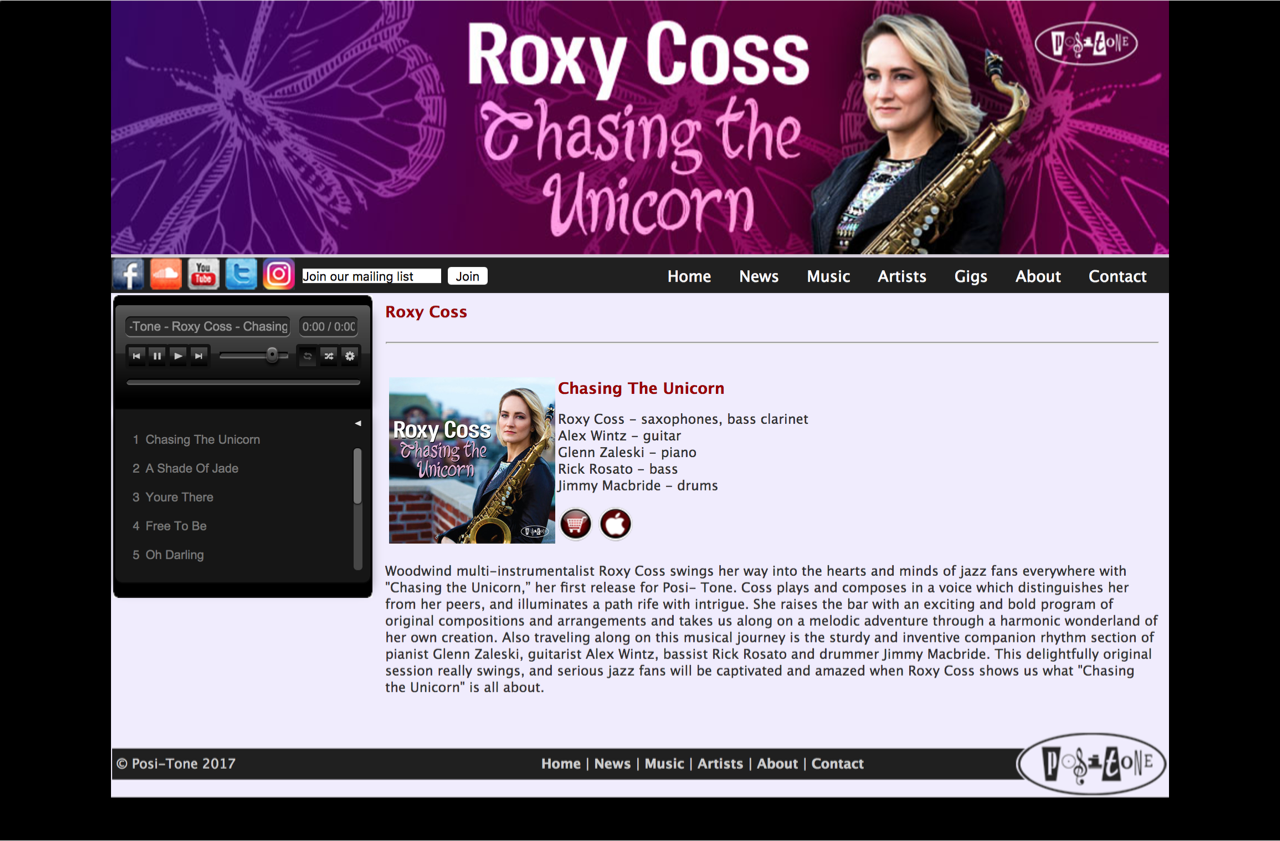 Laziness? The belief that two female players are interchangeable? I felt I had been erased, and it isn't fair to Roxy either, who deserves words of her own to describe her playing, which are a critical part of any artist's press kit.
I wrote to Roxy, who forwarded my email to Posi-Tone. They never responded.
I'd also like to point out that as of today, Roxy Coss, Amanda Monaco and Champion Fulton, all of whom have current releases on Posi-Tone, do not have profiles on their artist roster page, which features twenty men.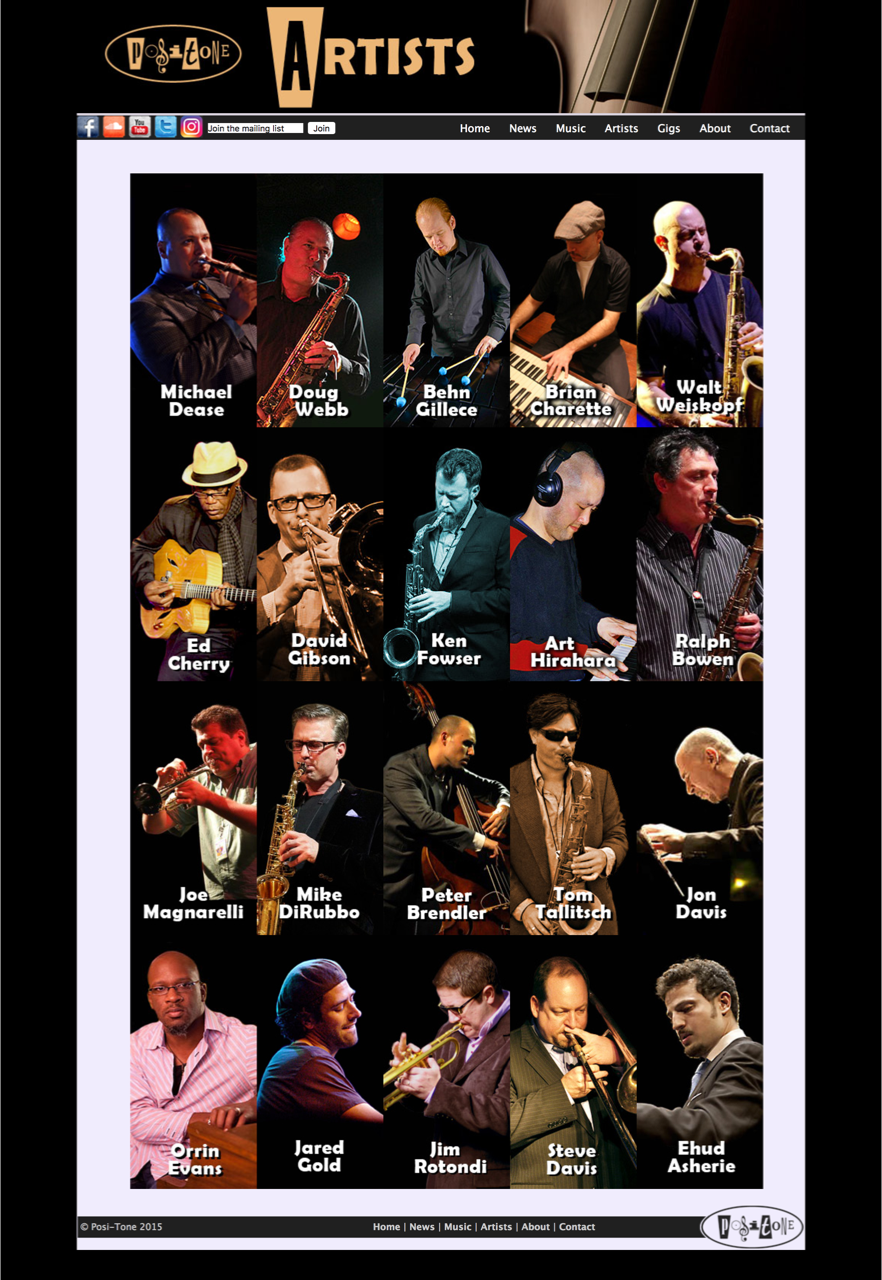 There is some really uncomfortable stuff here. People can say or feel that they are feminists and champions of women and still be sexist or do sexist things. Part of what makes sexism so pervasive in our culture is that people in positions of power can so easily argue that criticism comes from pettiness, or a desire for attention, or some misunderstanding.
But sitting here agonizing over whether my character and abilities will get trashed if I speak up, and doors closed that might have been opened, just doesn't feel tolerable, not anymore.
I will continue making art, because that is what artists do.